Hi my Inside-Out Beauties!
This is a really quick update.
I just finished participating in the #bbloggers Twitter Chat.
As you may know, this happens every Wednesday and Sunday from 8PM to 9 PM UK time.
Each week there's a poll regarding the topic of discussion for the following chat.
If you didn't know, you can vote and stay updated
right here
.
Now this got me thinking... is there a chat that you guys know of for #BeautyGurus #BeautyVloggers or #

b

vloggers ?
I really enjoy meeting new beauty bloggers once or twice a week, and I feel the need for an easier way to meet other Beauty Vloggers too.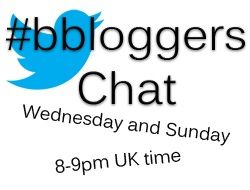 With all the captchas, messaging limits and spamming going on on Youtube, it has become increasingly difficult to be social there.
What do you guys think?
Leave me a comment below and let me know if there is, then when it takes place so I can join!
And if not,
would you be interested in organizing one with me?
UPDATE: After doing some research I came to the conclusion that we're all beauty bloggers, some of us make videos and some others only write / blog. But making a separate chat would only divide our chances of getting to know each other in this lovely Beauty Community. So my advice is don't miss the chat Wednesday and Sundays, and there's another chat Tuesdays (not sure what time exactly) for Fashion, Lifestyle and Beauty Bloggers. In other words, for those bloggers who blog about a little bit of all those topics (like me!).
See you on
Twitter
!